POPL 2015: 42nd ACM SIGPLAN-SIGACT Symposium on Principles of Programming Languages

Mumbai, India
January 12-18, 2015
General Information
Get Around Mumbai: Local Travel
By Taxi:
Black and Yellow Taxi: Taxis are cheap and plentiful. Most taxis in Mumbai are small-medium sized cars (non air-conditioned), painted black-and-yellow (black on lower body and yellow on roof) which are usually Hyundai Santro and Suzuki Altos, with electronic meters. You can hail a cab off the streets. At the start of the journey, ensure that the meter is visible and shows the flag-down fare/meter reading that currently stands at Rs. 21/- during the day & Rs. 26/- during the night post 9 PM.
Private Taxi: These are more comfortable in comparison to the Black and Yellow taxis at a small surcharge of 25 percent over a normal taxi. These services operate modern fleets with well trained drivers and government-approved tariffs. You can get them at 30-60 minutes notice, they are clean, air-conditioned, equipped with digital, tamper-proof meters, punctual, honest, and GPS-equipped-monitored, which makes them far secure at any time. If you're using a mobile phone, you receive an SMS with the driver's name, mobile number and car number 30 minutes before scheduled departure. The Charges vary and therefore, the estimated fare can be clarified with the customer care executive before booking a taxi. 25% night surcharge on the total fare is applicable between midnight and 5AM.
Some of the Branded Radio Taxis details are below:
Easy Cabs - +91-22-43434343

Meru Cabs- +91-22-44224422
For Online Booking, you can visit: http://bookmycab.com/mumbai.php
By Trains:
Most people travel in Mumbai using the Suburban Rail Network commonly referred to as "Locals". Mumbai has an extensive network, with three lines ? the Western Line, the Central Main Line, and the Harbour Line. They Trains on all lines start operations after 4AM and close operations between midnight and 1AM.
If you are a tourist, you can buy a 'Tourist Ticket'. It costs Rs.160 and you can travel in first class compartments of all the three lines during the entire day. Ensure the location of the first class compartment before the train arrives. An easier way to spot the location of the First class compartment is to check the station walls painted with red and yellow slant stripes.
Avoid using local trains during rush hour (first class or otherwise). Rush hour is 8:30AM-10:30AM towards CST and Churchgate and 5:30PM-8:30PM in the opposite direction. If you must transit during rush hour, it is advisable to avoid using Mumbai Locals.
There are special coaches for women on both classes. These are designated by green and yellow slant stripes, spot these stripes on the station walls and you'll know where the ladies compartment is. These are generally less crowded and safer.
Medical Aid Near TIFR:
Please look at Emergency page for medical information.
Restaurants Near TIFR
Colaba Social: 24, Ground Floor, Glen Rose Building, BK Boman Behram Marg, Apollo Bunder, Colaba
Contact: +91 022 22828484
Cafe Leopold: S.B. Singh Road, Colaba Causeway
Contact: +91 022 30151919
Cafe Mondegar: 5A, Metro House, Shahid Bhagat Singh Road, Near Regal Cinema,Colaba
Contact: +91 022 22020591 / 022 22830586
Cafe Churchill: East West Court Building, Opposite Cusrow Baug, Shahid Bhagat Singh Road, Colaba,
Contact: +91 022 22844689 / 022 22042604
Piccadilly: Donald House, Opposite Electric House, Colaba Causeway, Colaba
Contact: +91 022 22823217 / 022 32053233
Khyber Restaurant: 145, MG Road, Kala Ghoda, Fort
Contact: +91 022 22673227 / 022 40396666
Cheval Restaurant: 145, Mahatma Gandhi Road, Kala Ghoda
Contact: +91 022 4039 6632
Starbucks Coffee: Ground Floor, The Taj Mahal Palace & Tower, Apollo Bunder, Colaba, Mumbai
For more details on Restaurants in Mumbai, you can visit
https://www.zomato.com/mumbai/restaurants or http://www.burrp.com/mumbai
Banks
Normal commercial banking hours are from 10:00 to 16:00 hrs from Monday to Friday, and till 14:00 hrs on Saturdays. Banks are closed on Sundays and on public holidays
Credit Cards / ATM:
There are 24-hr ATMs all over the city of Mumbai. International credit cards are widely accepted. However, you are advised to carry some Indian Rupees for local taxis and street purchases.
The currency in India is the Rupee, which is issued in denominations of 5, 10, 20, 50, 100, 500 & 1000. Please use authorised banks and money changers to exchange foreign currency.
ATMs around TIFR:
There is an ATM within TIFR main building. Other surrounding ATMs are shown in the following map.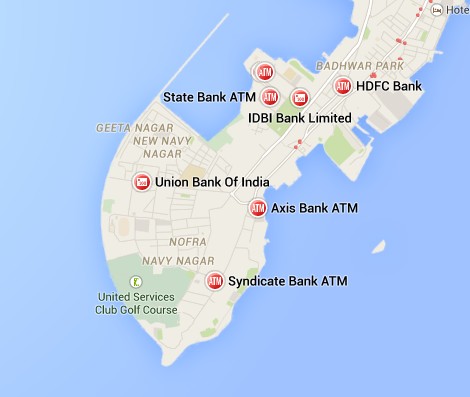 ATMs around Colaba: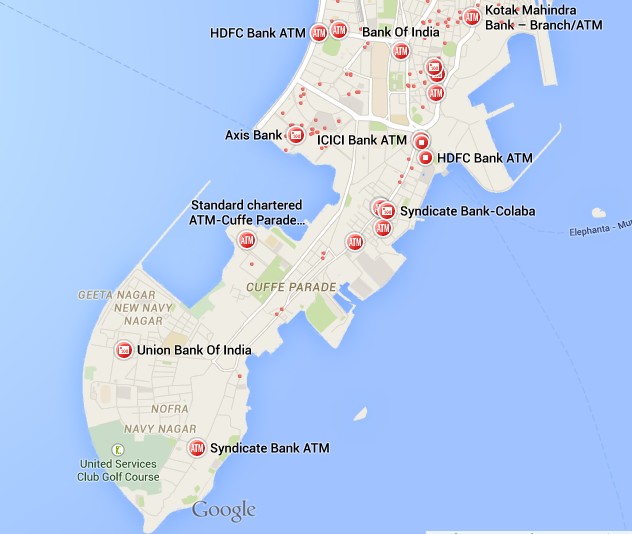 Money Exchange:
Please ensure that you receive a certificate of exchange which will be required for the re-conversion of any unused currency. It is illegal to exchange foreign currency other than through authorised money changers or banks. The current rate of exchange can be found at www.xe.com
Some of the exchange dealer offices close to TIFR:
Erudite Forex Dealers Pvt Ltd: Shop No 9, York House, Near Cie Showroom, S B S Road, Colaba
Contact: (+91) 22 2287 2634
International Currency Exchange Pvt Ltd: Shop no 10, York house, SBS Road, Colaba, Opposite Electric House
(+91)-22-61613969
Aishex Forex Private Limited: 9, Sugra Manzil, BEST Marg, Apollo Bandar, Colaba
Contact: (+91) 22 2283 3963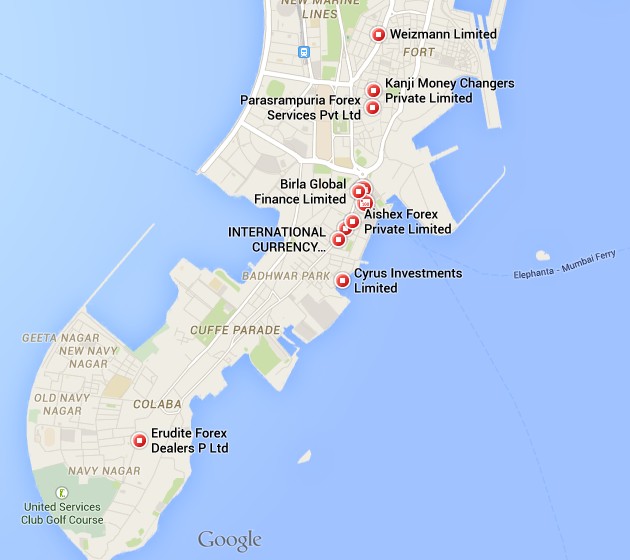 SIM Cards:
Foreigners can buy pre-paid sim cards with a 3 month limit on their prepaid SIM connectivity for foreign visitors to India on arrival. There are kiosks right after you clear customs at the international airport. Normally, the pre-paid cards take about 12-24hours to activate.
Documents required to buy a SIM Card:
2 color passport photographs of yourself
A photocopy of the personal details page of your passport. You will also have to produce your passport for verification, after which it will be returned to you
A photocopy of your Indian visa. You will have to show the original visa for verification
A photocopy of the proof of your home address in your country of residence like your passport, driver's license or any other Government issued document. Please carry the original document along for verification
Proof of where you will be staying in India. A letter from your Hotel confirming that you are a guest
If you are planning to buy a SIM in India, please carry these documents with you while entering in India.
Some of the mobile service providers close to TIFR are:
Vodafone Mini Stores: Shaheed Bhagat Singh Road, A/2 Fatima Manzil, Near Colaba Fire Station, Colaba
Contact: 098200 98200
Vodafone Store: 76, Shop No 3, Asiatic, Indian Merchant Chambers, Veer Nariman Road, Churchgate
Contact: (91)-9820098200
Tata Docomo: Shop No 2, Ground Floor, Kamal Mansion, Colaba, Opposite Electric House
Contact: (+91) 22 65278222, (+91)-8097488079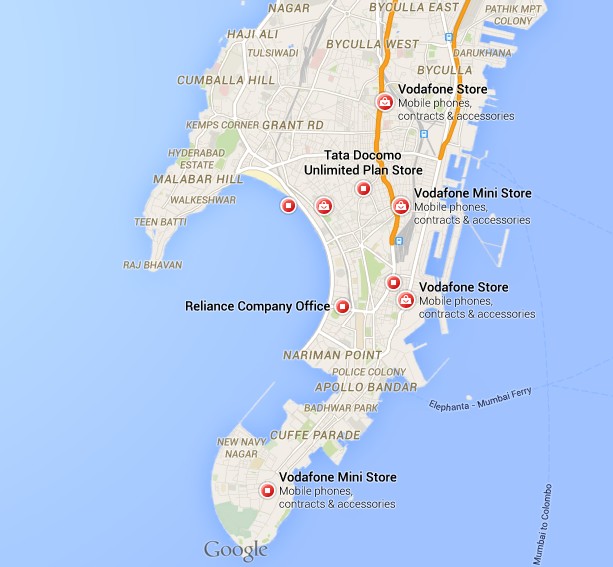 **PLEASE NOTE**: The above mentioned information is recommended by the POPL Organizers to assist all delegates. However, the delegate will have to personally procure the SIM Cards if required.
Grocery Stores Near TIFR:
Godrej's Nature Basket: 30 A, Ground Floor, Shopping Arcade, World Trade Centre, Cuffe Parade-Colaba, Opposite IDBI Bank, Mumbai - 400005
Contact: (+91)-9833648521
New Colaba Super Market: Shop No 1, Ruby Terrace, Lala Nigam Road, Colaba, Opposite Dena Bank
Contact: + (91)-22-22876544, +(91)-9869318392
Amratlal Purshottam and Company: New #29A, N.F. Road, Near Colaba Causeway, Colaba, Mumbai,
Contact: (+91)- 22- 22020285/24221601
Apna General Stores: Shirin, Near Regal Cinema, Colaba
Contact: (+91) 22- 22188018
A few other recommendations can be seen as indicated in the map below: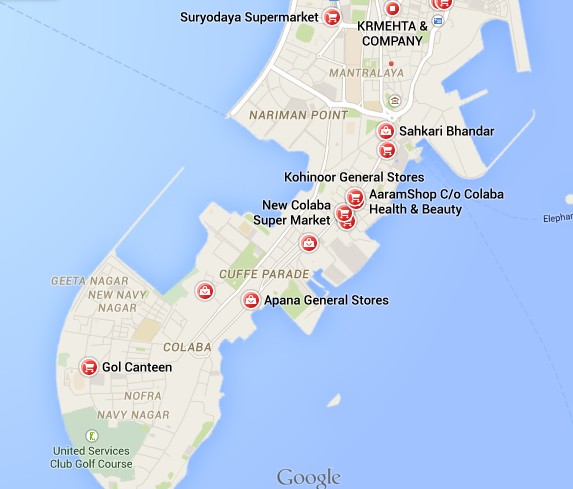 Child Day Care Centres Near TIFR:
TIFR Child Care Facility: Tata Institute of Fundamental Research
Contact Person: Irem Mansuri
Contact Number: +91-22-22782876
Website: http://www.tifr.res.in/~ccc/
Email: mansuriirem@gmail.com
Bright Stars: Off Jss Road, St Francis Xavier Street, Charni Road, Near St Sebastian Church
Contact: (+91)-22-61636391/22008080

Serra International Pre School: 6, Sunrise Building, 4th Pasta Lane, Colaba, Opposite Camay Wafers
Contact: (+91)-22-61637340
Website: http://www.serrapreschools.com/
Stay Safe!
Keep your money and credit cards safe at all times. Always carry some cash as many places do not accept credit /debit cards

Beware of pickpockets in public places

Advisable to avoid street food as much as possible

Drink only bottled water and check that the seal is intact when you receive it

Avoid raw vegetables, uncooked seafood and peeled fruit outside the venue

Avoid food and drinks from street vendors

Do not leave your belongings unattended

If travelling alone, it is advisable to always have the GPS navigation support on for safety purposes

It is advisable to never take lifts from strangers when travelling within the city

Always hire a taxi with meter on and do not allow other strangers to share it with you
Supporters