POPL 2015: 42nd ACM SIGPLAN-SIGACT Symposium on Principles of Programming Languages

Mumbai, India
January 12-18, 2015
About Mumbai


Mumbai, the City of Experiences
Mumbai is the financial capital and the most populous city in India. It is the capital of the state of Maharashtra and home to 20 million people. Mumbai's diversity and vibrancy display the city's true personality. Along with the neighboring urban areas of Thane and Navi Mumbai, this city forms one of the most heavily populated regions in Asia. With its diverse set of people, Mumbai is also the home ground for many reputed enterprises and organizations.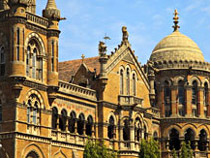 Formerly known as Bombay, the name of the city is derived from the Hindu Goddess Mumbadevi. Mumbai is an archipelago of seven islands. Its rich history can be experienced through its architecture and the relics of the past. This global city is ever-evolving and welcoming.
Mumbai offers a wide choice of attractions for tourists that they should definitely not miss while visiting the city. This city with its intrinsic charm delights each kind of tourist- whether a foodie, a shopaholic or a history enthusiast.



Local Sightseeing - Mumbai Panorama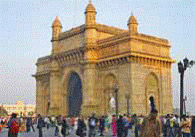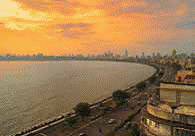 The main sights of Mumbai
For more information on Mumbai, please visit
http://www.lonelyplanet.in/
or
www.wikitravel.org
For booking your preferred local tours
click here
Outstation Tourist Destinations
Mumbai is in close proximity to hill stations, beaches and jungles. Places like Matheran, Lonavala, Alibaug, Khandala Panchgani and Mahabaleshwar are some of the destinations which can be done over a weekend. Here are a few of them:
Daman: Daman is a small area located between the State of Maharashtra, Gujarat and the Arabian sea. Daman possesses a rich cultural heritage. The history of Daman dates back to 2000 years and has witnessed various rulers, conquests and surrenders. The Portugeseobserved this port in the 16th century and acquired it from the Shahs.
Distance: 180 kms from Mumbai
How to reach: Bus, Train, Car
Activities: Beach, Fort, Shopping, Waterfalls, Historical Monuments, Wildlife
Lonavala & Khandala: Khandala and Lonavala are exotic and exuberant picturesque Hill stations tucked away in Mahrashtra region with an impressive view of lush green pastures, glittering lakes, magnificent valleys and majestic cascades. It is located at an altitude of 625m and is \nestled in the foothills of Sahyadris and is a far outcry from the hustle and bustle of modern city life.
Distance: 83 kms from Mumbai
How to reach: Bus, Train, Car
Activities: Trekking, Rose Garden, Sightseeing, Waterfalls, Paragliding, Wildlife
Alibagh: Alibagh literally implies Garden of Ali and is located in the Raigad district of the Konkan region. Alibagh is one of the favourite getways for the inhabitants of Mumbai. Since Alibagh is surrounded on three sides by sea it is often called the Goa of Maharashtra. Alibagh was developed by the naval chief of Shivaji during the 17th century. The city became prominent after Chhatrapati Shivaji built the fort of Kulaba here.
Distance: 95 kms from Mumbai
How to reach: Bus, Train, Car
Activities: Shopping, Beach, Palace, Swimming, Spa & Massage, Fort
Mahabaleshwar: Mahabaleshwar is an exotic and exuberant hill station nestled in the Western Ghats. Situated at an altitude of 1372m Mahabaleshwar offers panoramic views of the plains with the sloppy peaks and surrounding woods. It is often referred to as queen of hill stations in Maharashtra.
Distance: 263 kms from Mumbai
How to reach: Bus, Train, Car
Activities: Nature Trails, Mountain Biking, Water sports, Trekking, Shopping, Fishing
Panchgani: Panchgani meaning the place of five hills is a famous tourist destination in Maharashtra and is located at an altitude of 1334m. It is vibrant and exotic with hilly terrains on one side and coastal plains on the other side. It was often used by the British as their summer resort. The air in Panchgani is highly unadulterated and unspoilt and is one of the peculiar features of this spot. Panchgani is marked by cottages for people to spend their vacation in relaxation.
Distance: 244 kms from Mumbai
How to reach: Bus, Train, Car
Activities: Hiking, City Tours, Wildlife Sanctuary, Rock Climbing, Markets, Trekking, Art Gallery, Shopping, Caves
Apart from the above listed destination, some of the other exciting locations are Goa, Karnala, Amby Valley, Silvassa, Nashik, Ajanta & Ellora, Malshej Ghat, Bhandardara and Kamshet.
Supporters